Design driver incentive plans and engage drivers daily with a positive and gamified mobile app
DIGITALIZE

YOUR DRIVER

INCENTIVE

PROGRAM

TODAY
Engaging drivers for

5.2% fuel savings

and higher driver retention
SafeMode's direct correlation to

30% fewer accidents

and insurance claims
Utilizing driver incentives to

increase ELD compliance

and safety
Fleets face driver-related challenges
High driver turnover rates
Driver attrition harms the stability of fleets' operations and adds significant expenses to business's bottom-lines
Unfortunately, drivers don't have the same interest as their employers - safe driving, compliance, fuel economy, and productivity
88% of fleets are paying driver incentives. These incentives are poorly managed by pen & paper or spreadsheets. No analytics, low ROI.
A comprehensive system for driver engagement
Choose the metrics to measure driver performance
Insightful analytics and scheduled reports for the management
We design the best incentive plans for you,
Fleet management integrations
Seamless integrates with your existing telematics and dash cam solutions
Gamified driver mobile app
Gamified driver app helping drivers to earn daily cash incentives
The automated end-to-end platform
Incentive design app
Simply select built-in incentive programs and customize them to your fleet's operations.
Design the metrics for driver safety, productivity, fuel efficiency, compliance, and more.
The science-backed incentive plans and our experts will tailor them to your business.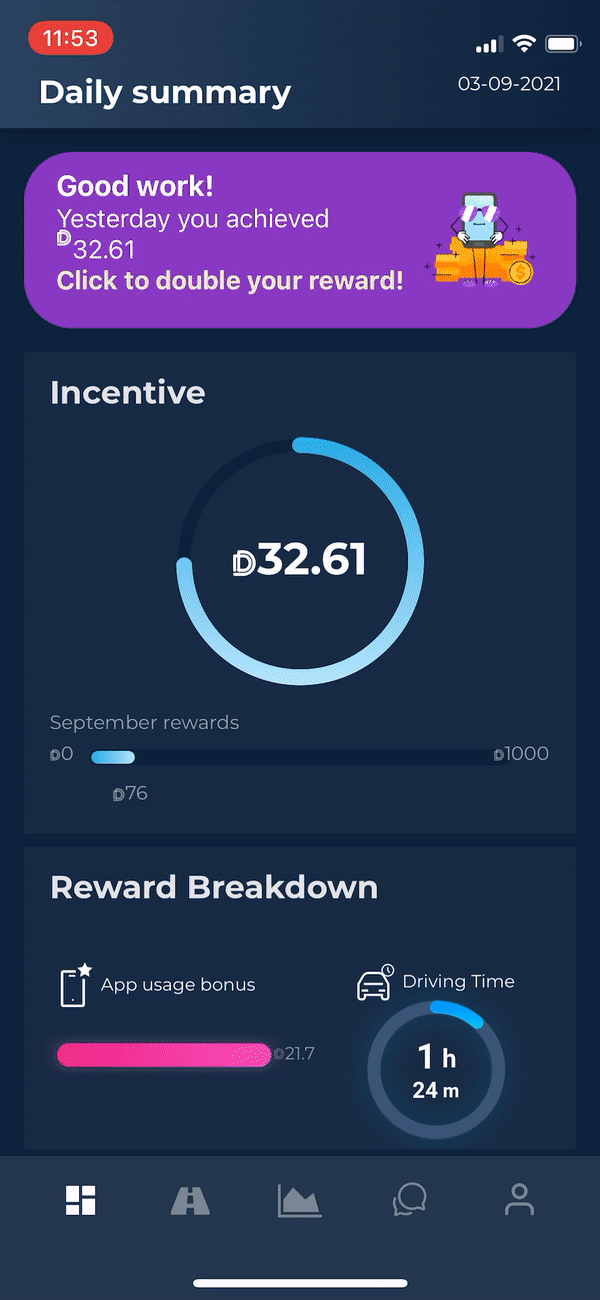 Gamified driver mobile app
​
Easy and fun to use, drivers get daily incentives based on their safety performances.
Drivers can review their trips, get insights into their performances and see their monthly budget and earnings.
Actionable analytics for managers ​
​
Our automated process saves you time, highlighting the most relevant items and showing you how your drivers improve their metrics.
The platform sends you scheduled detailed reports so that you can keep track of your drivers' success.
Our driver retention tool - Beta*
​
We know that driver turnover is the most crucial challenge that fleets face.
Join now to get the first access to the game-changing tool and stay ahead of the market.
Choose the plan that suits you
The dedicated service package that unlock the full potential of the platform
- Complete service package
- Dedicated account manager
- Personalized incentive plans
- Kick-off plan for managers
- On-boarding support for drivers
- Advanced analytics
- Engagement Analytics
- Replies to driver inquiries
​
​